Food and Drink Experiences in North East Scotland
Food and drink has been at the very heart of Scotland for a long time. Well known for the quality of its fresh food, world-class products and award winning culinary skills.
Some foods such as haggis, smoked salmon and shortbread have become iconic to Scotland and what people mention when they think about Scotland,  while others such cock a leekie soup, black pudding, porridge, mince and tatties, venison, clootie dumpling or cranachan, to name but a few, have become national dishes.
Here too in the North East Scotland, with it's distinct landscape, fertile fields, fresh water springs and rivers, which all play a key role in producing some of the best home-grown, ingredients you can find.
These ingredients are creatively used to produce tasty, tempting dishes in the area's award winning pubs, restaurants and hotels. Where better to sample and enjoy some of Scotland's fresh and authentic produce. 
Drink is also an important element of the regions DNA. Going back centuries there has been expertise in distilling quality spirits in this region, which continues today.  You can get a real local flavour with the area with an abundant malt whisky and Scottish Gin producers.
We cannot hope to do full justice to the amazing diversity and range of local good quality produce on offer from the North East area, however we can highlight a few that you may or may not have come across.
Be a "Foodie" in North East Scotland with a Northern Highlights Pass
With so much on offer in the region, it may be hard to know where to start, however we can give you a few pointers of what might tempt your taste buds:
Aberdeen Angus cattle have been recorded in Scotland since at least the 16th century in Aberdeenshire and Angus. Better known as Aberdeen Angus, a breed of cattle, commonly used in beef production, is found across many areas of the world. It features on many local hotels restaurants menus for example Maryculter House. You can also visit an award winning Highland herd which offers farm tours and experiences showcasing the well loved iconic "Highland Coo" at Aberdeenshire Highland Beef 
Venison, a red meat similar to beef but leaner and has a slightly richer taste. The meat of a deer, is farmed on local estates and classed as game. Its distinctive flavour, high protein content, and being classed as a healthy lean meat makes it popular as a burger or in a stew.
Scottish Salmon, distinctive and delicious, this versatile, oil-rich fish is a popular restaurant choice appearing on many menus around the world, including here in the North East. If you want to try your hand at Salmon fishing the Kincardine Beat on the River Dee offers you just that in stunning Royal Deeside scenery. 
Whisky Scotland's national drink, "uisge beatha" in Gaelic (oosh-ga beh-huh), means "water of life" has been produced for longer than anyone can remember.In Moray Speyside, home of the Malt Whisky Trail why not visit the oldest producing distillery Strathisla, the home of Chivas or travel south to Perthshire to Dewars of Aberfeldy. The region produces arguably some of the best single malt whiskies in the country.
Toll House Spirits – Award winning Redcastle Scottish Gin part of the Toll House Spirits. "Gin School Experience" Save 20%
Ogilvy Vodka – Scotland's first Vodka producing Distillery. Enjoy behind the scenes of the potato and vodka production. Save 10%
Dewar's Aberfeldy Distillery – Enjoy a distillery visit and tour to discover how Aberfeldy Single Malt is created. Includes a whisky tasting in the whisky lounge. Save 10%
City of Aberdeen Distillery – The first distillery in Aberdeen City for over 80 years. Offering tours and "Gin Tasting Masterclasses" and "Experiences" Tour. Save 10%
Maryculter House – Delicious "Afternoon Tea" with a Knights Templar Gin served in the historic Great Hall. Save 30%
Strathisla Distillery – Enjoy a visit to the distillery, the home of Chivas. Since 1786, is the oldest working distillery in the Highlands. Save 10%
Porters Gin – Save 10% on purchases.
Gordon Castle – Visit an historic award-winning walled garden, before visiting the cafe. Free entrance to the garden with a Pass & Save 10% on Retail.
Remember using a pass will also help your budget go a little further as you can save money off all of the above attractions.
Enjoy a Bespoke Food & Drink Experience & Save 10%
During your visit to the area why not try new tastes, take a food & drink tour with our tour guides Bothies & Bannocks and More in Moray Tours. Ask for recommendations about local dishes or check out the specials board at local eateries. If you are not sure of something on the menu, ask the staff, as they will be happy to explain & recommend.
So wherever you eat or whatever you try, we hope you:  "Bhuaireadh Your Taste gucagan" 
(Gaelic for Tempt Your Taste Buds)
Provenance Festival in the North East of Scotland
Join north east Scotland's food and drink producers at the Provenance Festival for engaging, hands-on and memorable experiences.
The 10-day festival, running from Friday 29th September to Sunday 8th October, gives you unique opportunities to get behind the scenes and hear first-hand the stories behind our iconic and sustainable food and drink from the people who make it.
The Northern HighLights Pass helps you to create a bespoke itinerary for your short break or longer Scottish holiday in the North East of Scotland.  Purchasing a Northern HighLights Pass enables you to plan ahead, know before you go, plus, there are big savings to be had on entrance fees to the many excellent visitor attractions across the region. Visit the best for less!
Your Northern Highlights Pass is available as a digital pass and can be easily downloaded straight onto your smart phone. Alternatively, you can purchase a hard copy pass and this will be mailed out to you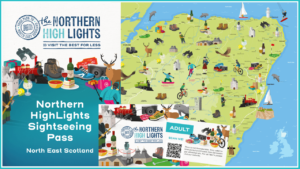 Please remember to follow...
So if you are interested to know more, remember to follow us on the Northern Highlights Pass social channels and also sign up to the "North East Blether" if you have not already done so. 
Ready to start exploring? Northern Highlights visitors pass enables you to visit the best – for less. Buy your pass and start your adventure!
So whatever you choose to do in the next few weeks and months please do remember to stay safe and continue to follow the Guidance To Protect The Environment, yourself and all our local communities.
#RespectProtectEnjoy #CairngormsTogether #VisitMoraySpeyside #VisitAngus #VisitABDN #RediscoverABDN #ScotlandisCalling #EscapeTheEveryDay