How to travel to North East Scotland
Welcome to the magnificent North East corner of Scotland. Touring around this unspoilt and very special region offers an extraordinary amount of activities and experiences.
You are in for an unforgettable trip to some of Scotland's most beautiful places. A vibrant region filled to the brim with castles, distilleries, outdoor activities, and beautiful scenery all around. If you're visiting the region for the first time, you might be wondering where to even start. With so many great things to do in the North East of Scotland, deciding where to go first could be the only problem you have!
Enjoy days out, discover fun cultural things, explore and uncover for yourself. Take in the stunning area of Moray and Speyside, the city of Aberdeen, beautiful Aberdeenshire, the astounding Cairngorms National Park, picturesque Northern Perthshire and Angus.
From the high peaks of the mountains right down to the coastal expanses, there is plenty to enjoy for all tastes. Whether you are looking for a day trip, a weekend escape or a full-on two week holiday, there are countless opportunities for memorable adventures and epic experiences.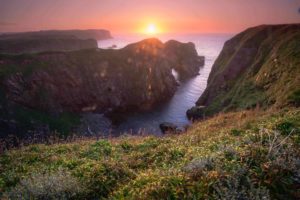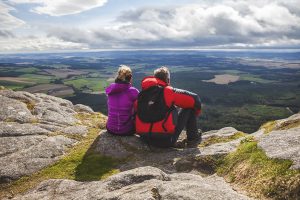 Staycation in North East Scotland
Wherever your journey originates, the North East of Scotland is closer than you might think. Easily accessible via Aberdeen or Inverness Airport, car hire is readily available. Take the train or bus from all major UK transport hubs. For something different why not experience the overnight rail service, the Caledonian Sleeper. The adventure starts with your journey and you can even take your dog! Self-drive trips are a great way to explore. Vehicle hire is widely available, 4×4, camper-van or take a very scenic drive in your own vehicle. The EV charge point network is constantly growing meaning range anxiety is less of an issue. Trips by public transport are entirely do-able with a little planning ahead. Guided tours are available and are a great option particularly if you intend to tour whisky distilleries, Scottish Gin experiences or the local breweries.
Visit in springtime as the landscape begins its transformation from its winter colours into vibrant hues of green and gold and sights and sounds of new life all around. Summer in the area is brought to life with the sound of the bagpipes and drums as the Scottish Highland Games season kicks off. A fun-packed day that everyone will enjoy. Autumn is utterly beautiful. So if a walk in the crisp fresh air amongst stunning autumnal colours is your thing then you are in the right place. Still warm enough to spend the day outdoors exploring, this quieter time of year is an ideal time to get away from it all and relax in nature. It's awesome for photographers too. 
Winter in North East Scotland is magical. The hills are covered in snow and alpine scenes across the Cairngorms are enchanting. Outdoor pursuits don't stop at the end of summer! Must-try winter sports such as cross country skiing, tubing, curling are all available. The dark skies in the North East of Scotland are spectacular, visit Tomintoul and Glenlivet for World Class Stargazing during the winter months and there is every chance you can see the Northern Lights too.
History Highlights
The North East of Scotland is scattered with significant historic sites. There are picturesque castles, historic houses and walled gardens. There are ancient ruins and atmospheric Standing Stones dotted across the entire region. Aberdeenshire is a perfect place to start with more Castles per hectare than any other region of the UK!  It is also home to more famous castles such as Balmoral, Braemar and Dunnottar.
There are literally hundreds to explore and history lovers will delight in uncovering the stories and the amazing architecture.Unique and fascinating museums such as the Grampian Transport Museum and Fraserburgh Heritage Museum are must-see experiences. Historic houses, castles or gardens like the House of Dun, Blair Castle and Estate or Gordon Castle walled garden offer insights into life through the centuries and are fascinating places to explore. Local heritage centres are where you can really get under the skin of the friendly North East Scots people and its vast and wide ranging heritage.Follow one or more of the several trails that crisscross the region, explore the past and uncover hidden gems. Take time to slow down and unwind on your journey through this ancient landscape.
Outdoor Activity Highlights
VisitScotland's Year of Coast and Waters celebrates Scotland's extraordinary coastlines, rivers, shores and our vibrant maritime heritage. The North East of Scotland has some of the best experiences in Scotland. The often empty beaches of the region are reason to visit alone. Find yourself at Findhorn, Lossiemouth, Fraserburgh or Balmedie Beach, St Cyrus along the Aberdeenshire Coast or further South to Arbroath and you will be blown away by the sheer amount of space, natural beauty and clean fresh air.
Keep your eyes peeled for dolphins, porpoises, seals, whales and other amazing sea life.The Cairngorms National Park is the UK's favourite place for outdoor sports and high adrenaline activities. Go hiking, mountain biking, head out onto the water for surfing or sailing, wildlife watching or even wild swimming. The list really is endless. Country sports and organised guided outdoor fun are available at a variety of locations such as Craggan Outdoors or House of Mulben.Put on your walking boots and take a hike up the local hills such as Bennachie, Ben Rinnes or Ben Aigen. You will be rewarded with far reaching views across the UK's finest scenery.
Yes the North East of Scotland certainly has something to please everyone. Where else in the UK can you spend the morning on the beach enjoying the beautiful Moray Firth coast dolphin watching and then be skiing in the Cairngorms National Park in the afternoon? As a holiday destination, the North East of Scotland's strength lies in its diversity of experiences and activities that will keep you coming back for more. 
Please remember to follow...
So if you are interested to know more, remember to follow us on the Northern Highlights Pass social channels and also sign up to the "North East Blether" if you have not already done so. 
Ready to start exploring? Northern Highlights visitors pass enables you to visit the best – for less. Buy your pass and start your adventure!
So whatever you choose to do in the next few weeks and months please do remember to stay safe and continue to follow the Guidance To Protect The Environment, yourself and all our local communities.
#RespectProtectEnjoy